KU Pharmacy welcomes new class into profession
---
The University of Kansas School of Pharmacy hosted white coat ceremonies in September for its class of 2027. Faculty on the Wichita Campus helped their students don white coats on Sept. 5, while Lawrence Campus students met Sept. 7 at the Lied Center of Kansas for their rite of passage. The white coat ceremony symbolizes professionalism and integrity and reminds students of their professional obligation and responsibility to uphold the highest ethical standards and practice altruism in providing pharmacy care.
This school year's cohort will spend their first three years primarily in a classroom setting with opportunities for clinical experience and community service along the way. Their fourth and final year of pharmacy school is spent in a series of rotations in various pharmacy settings including community pharmacies, large retail, specialty pharmacies, hospitals, research and the pharmaceutical industry. Following successful completion of their licensure exams, graduates are prepared and qualified to enter the healthcare field to pursue a variety of pharmacy careers.
"The white coat ceremony represents an important transition point for our students," said Ronald Ragan, dean of the KU School of Pharmacy. "The white coat signifies their passage from general student to student pharmacist practitioner. They will wear their white coats while they study in our labs and while representing the University of Kansas in public facing service opportunities such as the annual "Operation Immunization" clinics held throughout the state. We also want them to realize early that wearing the Jayhawk on their white coat is a rare privilege."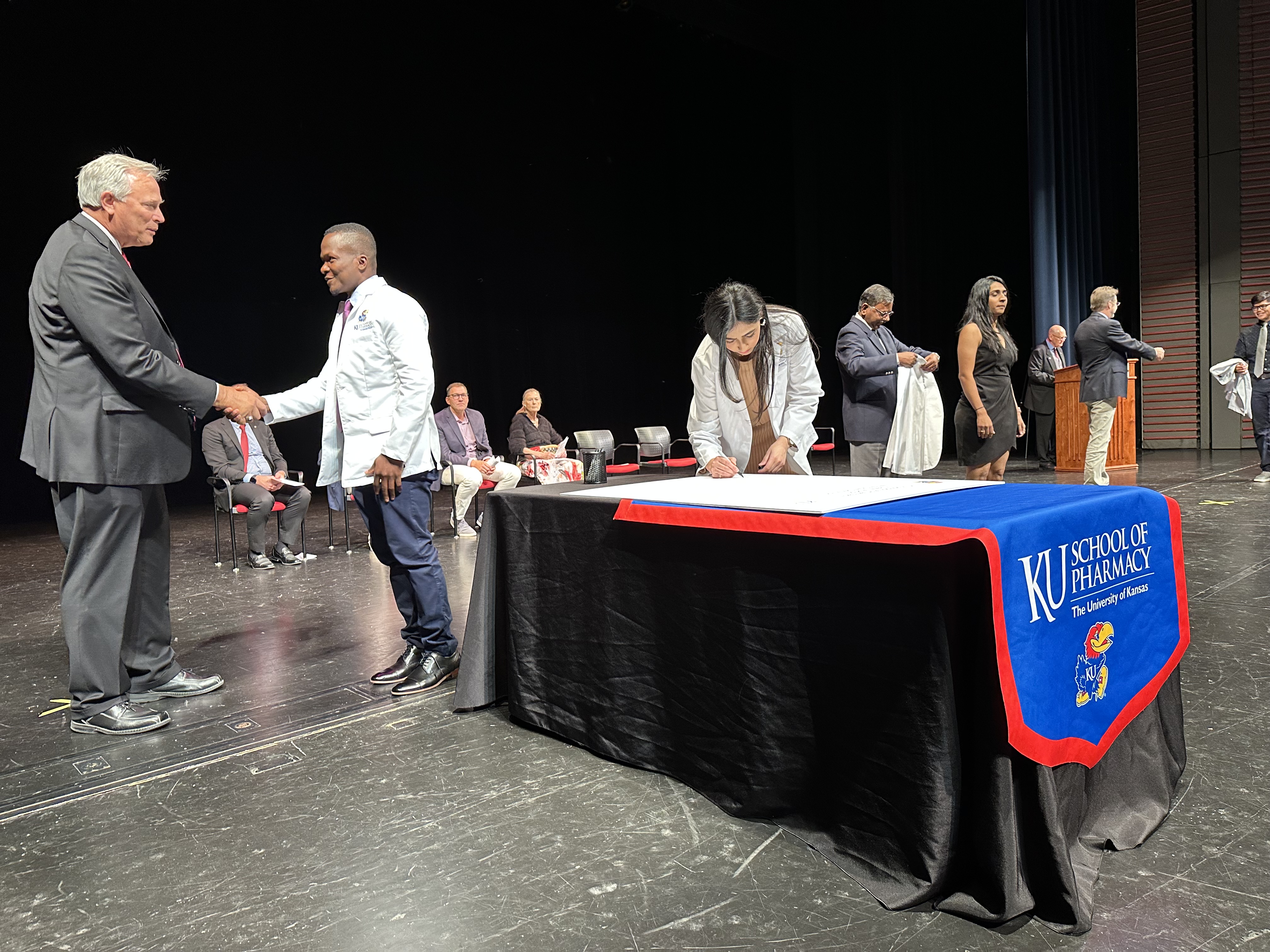 At the ceremony, students also sign the pledge of professionalism. This acknowledgement further establishes their commitment "to the highest ideals and ethical standards of the profession of pharmacy" and duty "to contribute to the well-being of others."
Approximately 25% of the class are first-generation college students, and 75% have no family members that are pharmacists. The reasons they pursue a Doctor of Pharmacy degree vary, but a common thread seems to be an aptitude for the skills needed and a desire to help others.
"I have always had strong interests in math and science, and pharmacy is the perfect combination of the two," said Maham Asif of Overland Park. "I enjoy helping others, and a career in pharmacy will allow me to serve others while utilizing my skills and interests. My previous employment experiences in healthcare made me realize that medication is often the way we heal others."
Emily Scott, from Topeka, grew up watching her parents battle a multitude of diseases and illnesses. "I saw firsthand the power that medicine had to empower and transform patients, families and their communities," she said. "In the same ways I had been impacted by the hard work and diligence of the medical professionals working around me, I knew I wanted to pursue a career where I could give back and improve the health of my community."
Many students indicated the reputation of the KU Pharmacy program was a main reason they chose to apply. The program is ranked in the top 25 nationally out of nearly 150 schools of pharmacy, according to "U.S. News & World Report." In the most recent (2022) ranking of total research dollars awarded to schools of pharmacy (including National Institutes of Health funding), KU School of Pharmacy is ranked 12th, up 15 spots from the previous year, as reported by the American Association of Colleges of Pharmacy.