Drug Information Center
The Drug Information Center Is Temporarily Closed For Re-Organization
Services
The Drug Information Center responds to requests regarding:
Therapeutic use of drugs (on-label or off-label)
Adverse drug reactions
Drug-drug and drug-herbal interactions
IV compatibility
Availability of new products
Herbal products, dietary supplements and over-the-counter products  
Pregnancy and lactation compatibility
Drug dosing and administration
Contract Projects
In addition to responding to drug information questions to the state of Kansas, our staff provides contractual services to InpharmD. The contractual services include creating curated responses to clinical inquiries submitted by healthcare professionals and developing formulary drug monographs for Pharmacy and Therapeutics.
Education
The Drug Information Center also serves as an advanced pharmacy practice experience (APPE) rotation site to educate students in retrieval of drug information using available resources, literature evaluation, and communicating drug information to patients and health care professionals in verbal and written form. In addition, our students participate in research that investigates the accuracy and completeness of drug information resources.
Resources
See Drug Information Center Resources for a searchable selection of drug information resources.
Leadership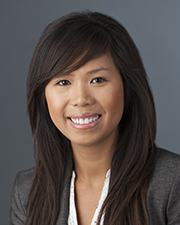 Drug Information Specialist
Program Questions
For questions about the KU School of Pharmacy Drug Information Center Program, please contact:
Cambrey Nguyen, Pharm.D.
Drug Information Specialist
Clinical Assistant Professor, Pharmacy Practice
University of Kansas School of Pharmacy
cnguyen@ku.edu
785-864-6366