Eduardo Rosa-Molinar
---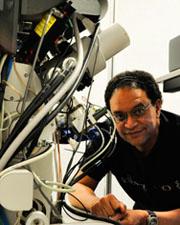 Professor
Director of Microscopy & Analytical Imaging Research Resource Core Lab
Department of Pharmacology & Toxicology
Contact Info
Haworth Hall, Room 1036
1200 Sunnyside Avenue
Lawrence, KS 66045
---
Biography
—
Eduardo Rosa-Molinar, Ph.D., is the Director of the Microscopy and Analytical Imaging Research Resource Core Laboratory and a tenured Professor of Pharmacology and Toxicology and Bi-Campus Neuroscience Graduate Program. He holds additional affiliations/appointments as a Professor in the Bioengineering Graduate Program (Bioimaging Track); School of Engineering and in the Department of Anatomy and Cell Biology at the University of Kansas and the University of Kansas Medical Center, respectively. Until June 2015, he was a tenured Professor of Integrative Anatomy and Neurobiology, University of Puerto Rico-Rio Piedras, San Juan, Puerto Rico.
He holds memberships and fellowships in numerous societies and serves or served in various leadership positions, committees, and boards, including Society for Integrative Biology, Histochemical Society, Royal Microscopical Society, Optical Society, Institute of Electrical and Electronics Engineers (IEEE), Society for Neuroscience, Association of Biomolecular Facilities, and the Federation of American Societies of Experimental Biology.  He also serves or served as associate editor and or as an editorial board member for IEEE Access, PEERJ Computer Science, Biotechnic and Histochemistry, Integrative and Comparative Biology, and Journal of Experimental Zoology Part B: Molecular and Developmental Evolution.
Education
—
Postdoctoral Training, Creighton University School of Medicine, 1999, Omaha, NE
Ph.D. in Medical Sciences: Anatomy, Cell Biology, and Neuroscience, University of Nebraska Medical Center, 1997, Omaha, NE
B.S. in Natural Sciences, The University of Alabama, 1994, Tuscaloosa, AL
Research
—
Research
Rosa-Molinar and his group apply to multi-scale multi-modal correlated volume resin microscopies a systems engineering process concept known as "imaging chain" that includes determining provenance, searching, mining, processing, analyzing, displaying, storing, and managing datasets. The imaging chain enables the group to develop, refine, and use imaging tools and reagents to create image data sets  required to unravel synapses' three-dimensional nano-scale geometry and molecular diversity.
Student, staff, and faculty training in the laboratory and in workshops focuses on preparing a diverse and inclusive workforce of neuroscientists, microscopists, and neurotechnology developers required to advance science.
Research Interests
He and his group's research interest is in the emerging field of neurotechnology, specifically developing/refining reagents, tools, and workflows for multi-scale multi-modal correlated volume resin microscopies required to determine the three-dimensional nano-scale geometry and molecular diversity of synapses. They are particularly interested in electrical synapses (e.g., gap junctions), specifically "mixed synapses," a poorly studied synapse that combines the features of both chemical and electrical synapses.
Freeze fracture image of a E-face spinal mixed synapse labeled for Connexin-35 (Cx35; 6-nm gold beads; white arrow heads), a fish ortholog of mammalian Cx36, and a postsynaptic density (PSD) clusters of E-face intramembrane particles identified as glutamate receptors based on weak but positive labeling for NMDAR1 (12-nm gold bead, white complete arrow).