Godwin recognized for KU Pharmacy distinguished service
---
The University of Kansas School of Pharmacy has recognized professor emeritus Harold Godwin as its 2023 Distinguished Service Award recipient. Godwin, a Ness City native, served the University of Kansas for 47 years in faculty and administrative roles in the School of Pharmacy and what is now the University of Kansas Health System.
"The University of Kansas School of Pharmacy has built its stellar reputation on the shoulders of smart, caring, hard-working and personable individuals with a common pursuit of excellence in all they do. Harold Godwin is one of those people," said Ronald Ragan, dean of the School of Pharmacy, where Godwin served as department chair for Pharmacy Practice for 20 years. Godwin was also director of pharmacy at the University of Kansas Health System for 34 years.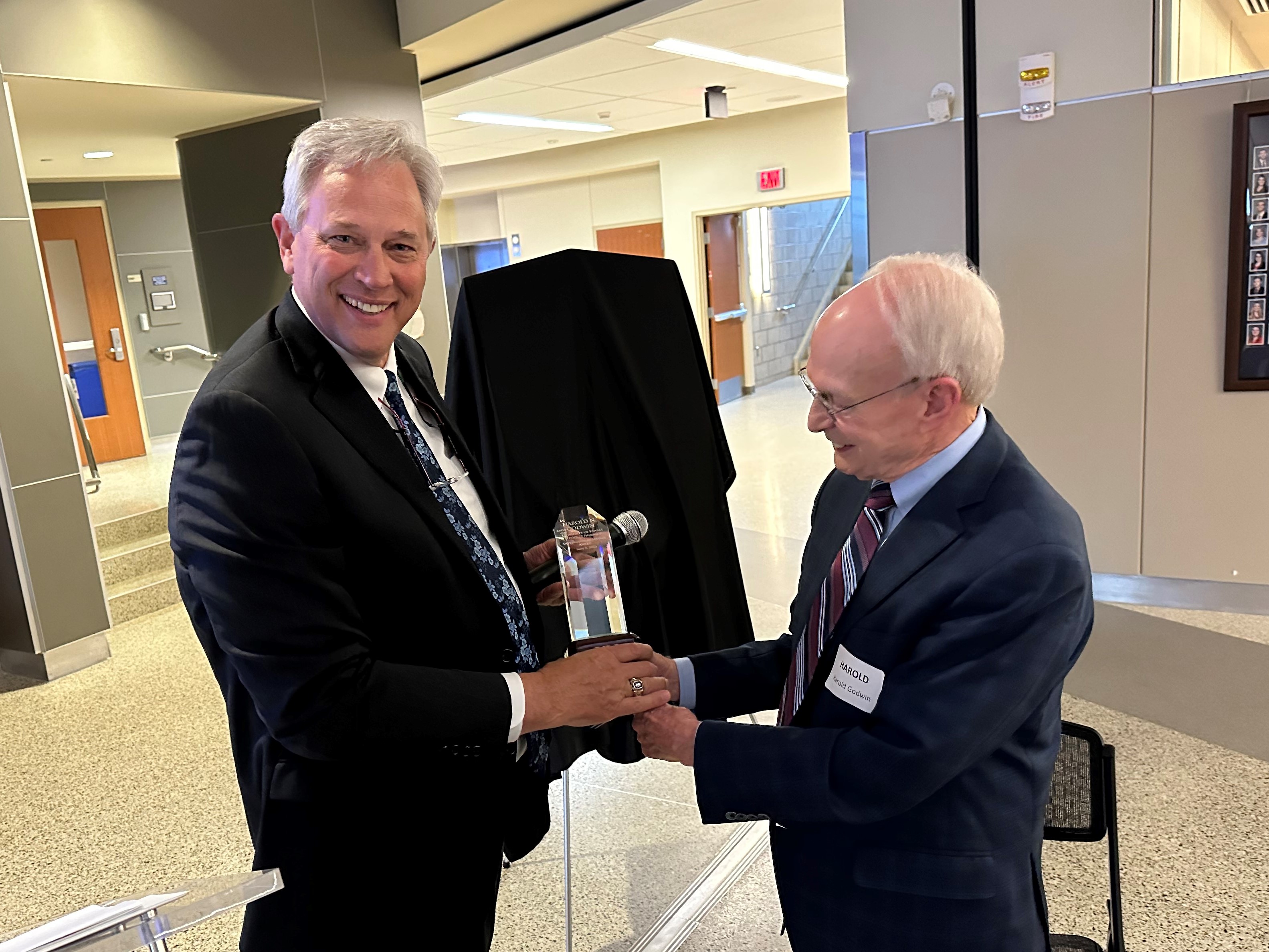 Godwin earned a Bachelor of Science degree in pharmacy at KU then pursued a residency and master's in hospital pharmacy at Ohio State University. Godwin says at the time, there were only about 10 hospital pharmacy residency programs in the country, and Ohio State had one of the most highly developed programs in the country. He took what he learned at Ohio State, brought it back to Kansas and developed a hospital pharmacy program and residency program to rival the other established programs.
Developing the program at the KU Medical Center "was dynamic," said Godwin. "You had education and you had practice. You became a colleague with the physicians and they respected what you knew and you respected what they were doing. That was the place to be."
With the blessing of the School of Pharmacy and the Health System, Godwin got heavily involved with pharmacy associations at the state and national level. He served as board president or chair for the Kansas Pharmacists Association, the American Society of Health-System Pharmacists, the Accreditation Council for Pharmacy Education (ACPE), the American Pharmacists Association and the Board of Pharmacy Specialties.
Godwin says the most significant change in pharmacy over his career was the transition of pharmacists from dispenser to caregiver. "As a leader," said Godwin, "I was pushing the envelope as hard as anybody." As board president at ACPE, the first item on his agenda was considering a change to the standard pharmacy degree, making it a six-year Doctor of Pharmacy degree, rather than a five-year Bachelor of Science in Pharmacy. "That was really pivotal to set the stage, and I was part of all that. There were some unhappy campers out there in the profession who didn't think we needed a Pharm.D., but I think it's really boded well for us today. I really enjoyed being a change agent for the profession."
Godwin was known as a prolific mentor with mentees found in pharmacy and health system leadership roles today across the country. He says it was just payback for the mentors he had in his career but considers it the most rewarding part of his celebrated career in pharmacy. There's a long list of leaders grateful for the interest and guidance Godwin had in their career development.
"Throughout my career, I've always worked to make you proud and have the pharmacy program at The University of Kansas Health System be something that you'd be really proud of," said Rick Couldry, vice president of pharmacy and health professions, in a recorded greeting at Godwin's recognition ceremony May 5. "That's been a big motivator for me. You are the building blocks that made (this program) happen."
"Harold's interest in me altered the course of my career," said Janelle Ruisinger, clinical professor of pharmacy practice and a director of community-based pharmacy residency at KU Pharmacy. "I simply would not have had the same career opportunities and successes without Harold Godwin."
Godwin often reminded pharmacy students that they should be focused on a career, not just a job. "In a career," he said, "you have choices, and you can grow. A career is futuristic, more so than just a job." In that career, Godwin wanted his students to be leaders, to dialogue with others and have candid discussions about how to move an organization forward.
"I was a teacher, a practitioner and an administrator," Godwin said. "It all tied together for the sake of the profession, for the sake of our patients and for the sake of our students."