Dean's Message - Spring 2022
---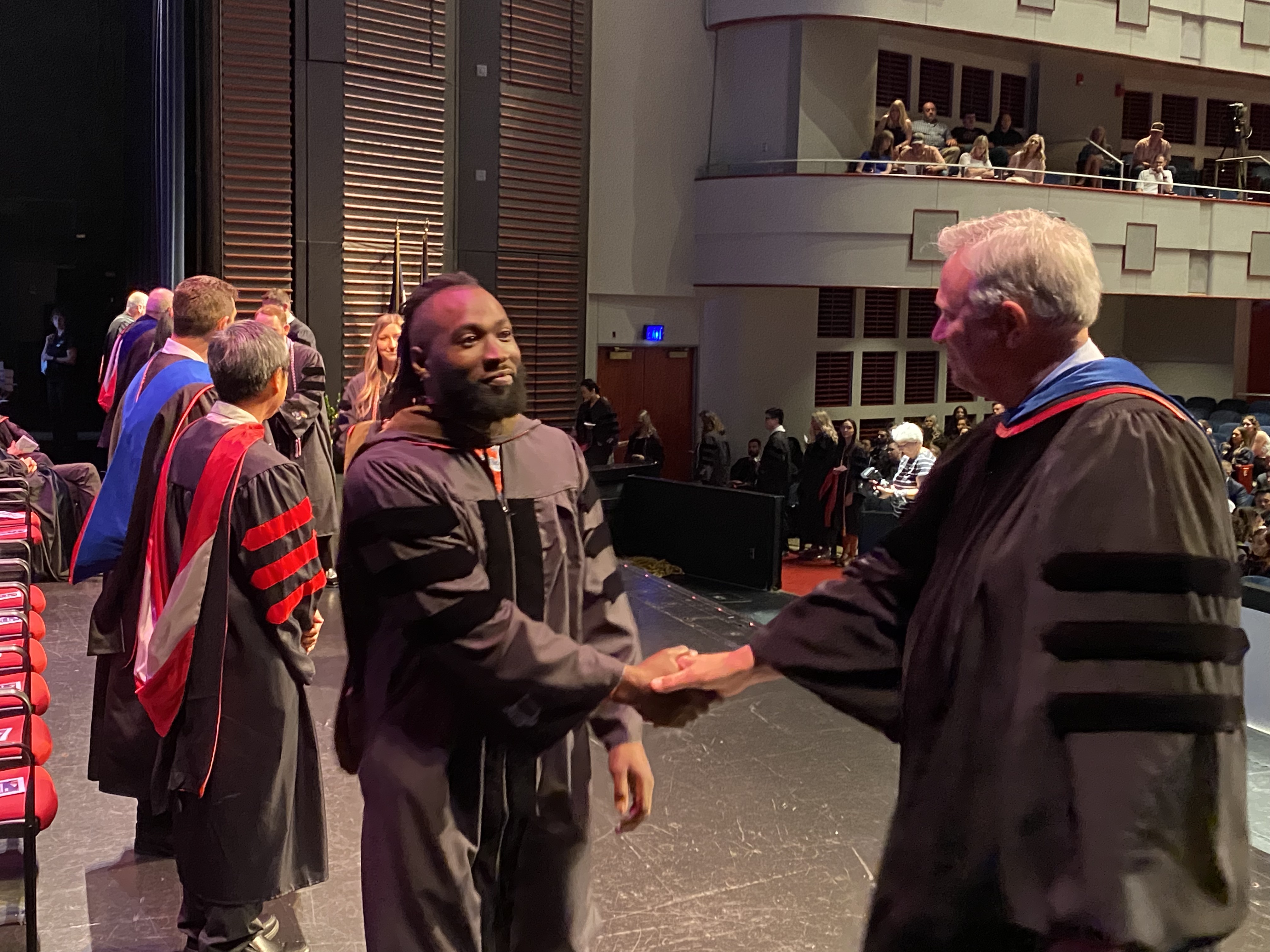 It's always a highlight of my year to preside over the hooding ceremony for our PharmD students and attend the graduate program hooding. On May 14, 121 students were hooded for their PharmD degree, five for their Ph.D. and five more for master's degrees. This group endured nearly half of their pharmacy education under the challenging environment of COVID. They were able to pivot their learning styles to succeed in a remote environment and still care for patients. During this difficult time, students helped give nearly 5,000 vaccinations at clinics here in the School of Pharmacy.
Congratulations to nine graduates who were honored with distinction, meaning they had a 3.75 GPA or better, and five who had perfect 4.0 GPAs to earn highest distinction. At a time when some express concerns about our next generation and our shared future, I'm proud to say that the future of pharmacy is in good hands with these graduates.
We have hopefully pushed through the worst of the COVID pandemic. It caused hardships for so many, including our educational systems across the state and nation. I want to acknowledge the outstanding effort of our faculty and staff to keep our learning, training and research programs moving forward and going the extra mile to ensure our students still received a quality educational experience. Our students continue to perform well on license exams, and credit goes to them and our faculty for their perseverance.
The pandemic has created a challenging budget environment in the School of Pharmacy. It will be difficult to replace the lost revenue due to this global health crisis, but I'm encouraged by how several of our most loyal alumni have stepped up to support us. Examples include three recent planned gifts that help the school plan for a future that allows us to seek new therapies, new ways to prevent infection and disease, and to prepare the next generation of pharmacists. These gifts commit $4 million to support professorships and scholarships. In addition, we have many dedicated alumni that support our efforts every year by being a member of the Dean's Club or contributing to the school with their time and talent.
On the research front, we continue searching for solutions for some of the world's toughest health issues. From infectious disease prevention to treatments for many types of cancer, Alzheimer's disease and other neurological diseases, our researchers continue to attract research funding and publish their work in respected journals that are frequently cited by others.
Recent examples of promising research include Jackob Moskovitz' work toward an Alzheimer's immunization and Michael Wolfe's proposal to create a new research center that would integrate cutting-edge biotechnologies that collect large amounts of data to help create a more holistic understanding of human diseases and the possible discovery of new drug treatments (see the mention in the newsletter).
We're already preparing for the next academic year and will be excited to welcome a new first-year class of pharmacy students in the fall. I look forward to connecting with many of you as I travel Kansas and beyond. I'm honored to lead one of the best pharmacy schools in the world and am grateful for the work you do in our Kansas communities and elsewhere. Your continued support means so much to the School of Pharmacy. If I can be of service, please let me know.
Rock Chalk!
Ronald E. Ragan
Professor and Dean