Ceremonies celebrate Pharmacy graduates
---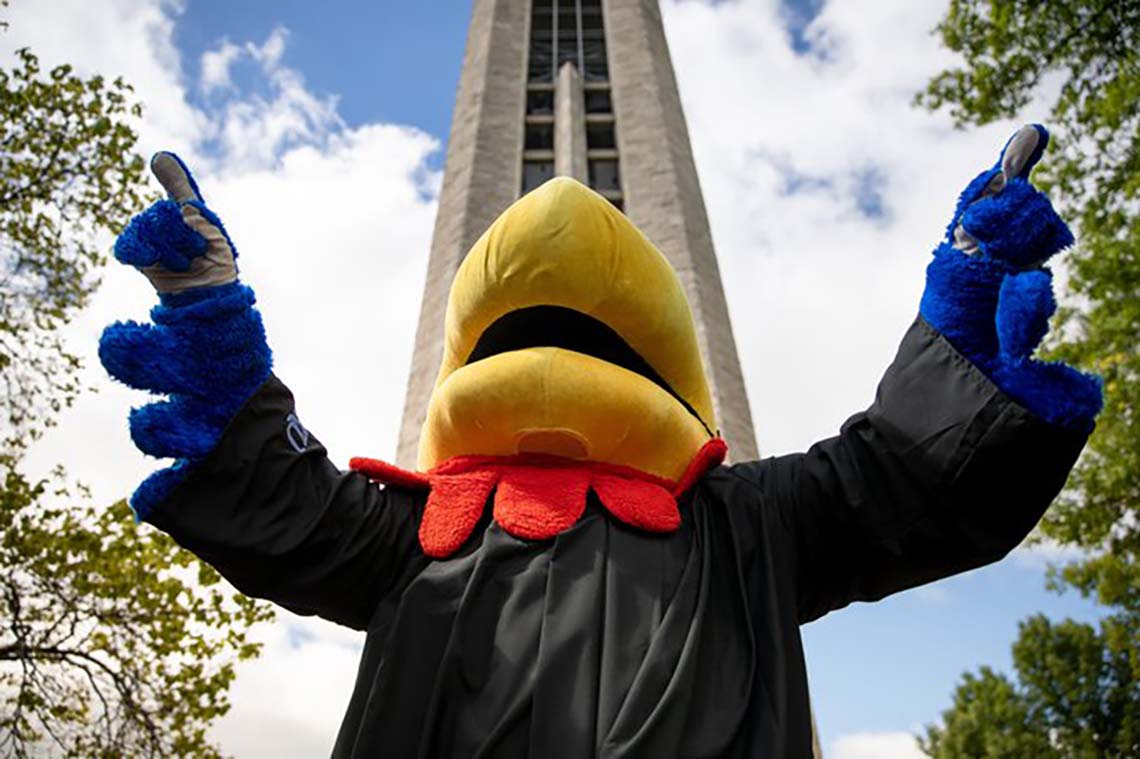 At 3:30 p.m. May 14, 2022 at the Lied Center on the KU campus, 121 School of Pharmacy students will participate in their Doctor of Pharmacy (Pharm.D.) hooding and awards ceremony. An additional 10 Pharmacy graduate students will be hooded for their Ph.D. or master's degrees at a 7 p.m. ceremony at Allen Fieldhouse. Dean Ronald E. Ragan will preside at the Pharm.D. ceremony and will be part of the stage party at the Ph.D./Master's hooding ceremony. A live stream of the Pharm.D. hooding and awards ceremony will be available at KU School of Pharmacy Recognition Ceremony. The live stream of the Ph.D. and master's hooding can be found at 2022 Doctoral Hooding Live Stream. Commencement for all graduates at KU will be at 10:30 a.m. Sunday at David Booth Kansas Memorial Stadium.
The Pharm.D. ceremony will feature Andrea Bond as the Class of 2022 speaker. Pharm.D. student awards will also be presented. A list can be found below. Doors of the Lied Center will open at 2:45 p.m. for the 3:30 p.m. ceremony. Photos of graduates being hooded will be available for purchase. The photographer will email a link to graduates for ordering.
Additional information about the Ph.D. and master's hooding is available at KU Doctoral Hooding Ceremony. Please note, it could be three hours or more from the time guests are seated in Allen Fieldhouse until the last graduate is hooded. We expect a large number of graduates for this multi-year ceremony. Guests should arrive at the Fieldhouse between 6 and 6:30 p.m. to be seated before the ceremony begins at 7 p.m. Doors will open at 6 p.m.
Guests are permitted to take photographs during the hooding ceremony at Allen Fieldhouse but should not impair the view of others. GradImages Photography will be taking pictures of all graduates as they are hooded. The photographer will contact graduates about the opportunity to view proofs and purchase photographs.
Parents, family, friends and other commencement guests can find more information about attending Sunday's commencement at KU Commencement. Please note prohibited items and weather and parking details. Pharmacy graduates will follow West Memorial Drive for the procession down the Hill. The walk down Mt. Oread is a time-honored tradition at Kansas. As former Chancellor Robert Hemenway once said, "The walk is the ceremony." Graduate names are not read during the commencement ceremony, but Pharmacy graduates will be individually recognized at their respective hooding ceremonies.
2022 Pharm.D. Student Awards
ASP-APhA Senior Recognition Award, Madeline Burling
ASP Professionalism Award, Connie Marker
KPhA Outstanding Service Award, Madeline Burling
NCPA Outstanding Student Member Award, Sara Dreiling
KCHP Students of the Year Award, Sydney Markley (KU Lawrence) and Tammy Nguyen (KU Wichita)
Edward E. Smissman Award, Shelby Go
Walter F. Enz Awards, Timothy Borel and Shelby Go
Department of Pharmacology and Toxicology Faculty Award, Miranda Anaya
Dr. George J. Traiger Award, Timothy Borel
Merck Manual Awards, Cory Bestwick, Andrea Bond and Kaitlyn Styve
VIATRIS Excellence in Pharmacy Award, Shelby Go
Wolters Kluwer Health - Facts and Comparisons Clinical Communications Award, Benjamin Wagner
Pharmacy Practice Clinical Skills Awards, Haley Blanck, Matie Meeks, Auriene Jamison and Alyssa Schartz
Pharm.D. Research Certificate Program, Hannah Harman
2022 Doctor of Pharmacy Graduates
Miranda Anaya
Rachel Arnold *
Feker Ashenafi
Rachel Askew
Kingsley Atakpa
Silvano Axel
Jealani A. Balram
Audrey Caitlin Barton
Anthony Batiz
Cory Bestwick ^^
Joshua F Bjelland
Haley Blanck ^^
Andrea Bond **
Timothy Borel **
Alexa Brockel
Lindsey Burleson
Madeline Burling
Jose Cabrera
Tristan Martin Callis
Christine Corcoran
Hannah J. Costello
Kaylee Croft
Selena Demus
Katie Denning
Dakota Denton
Derek Douglas
Sara Dreiling
Sonia Ebrahimi
Ashlee Edler
Weston Erbert
Colton Essex
Alison Evans
Reece Farwell
Devin Fitzgerald ^^
William A. Fletcher
Yoselin Flores
Maria Paredes-Flores
Jason Frederick *
Sivani Gadiraju
Adam Garcia
Alison Gehrke
Shelby Go **
Ellie Gossman
Vinh Ha
Hannah Harman **
Gil Haro
Lily He ^^
Chelsea Herrarte
Giang D. Hoang *
Kacie Holland
Katie Howard
Derek Huynh
Auriene Jamison
Kinley Jorgensen ^
Blade Kalleck
Osama M Khader
Cole Kitterman
Christopher D. Koons
Taylor Jo Kufahl
Mina Kuhlmann
Rachel Lamb *
Scott Langenegger **
Haena Lee
Madison Livengood
Laura Loyet
Connie Marker
Sydney Markley
Emily Marshall
Riley Martin
Connor McGovern
Matie Meeks
Leticia Mendez
Baron C. Miller
Rylan Minar
Tanner Moore *
Nick Moyers
Fatima Mozaffar
Jenna Mussett
Tanner Neuendorf
Kaci Nuehring *
Tam Nguyen
Regina Tudzi-Ofosu
Okwudili Martin Okekearu
Chaehee Park
Jarrett Price
Karmendeep S. Punia ^
Candace S. Quaites
Hannah Rardin
Jakob Ready
Meaghan Rettele *
Jackson Richmond *
Luke Riley
Katherine Salas
Alyssa N. Schartz
Fred Schertz
Josh Schmidt
Cale Schneider
Michael Schooler
Lake Schultz
Alexis Simons
Jarrod Smith
Ashley J. Stock
Emily Stohs
Sara Strand
Nehal Sutariya
Joshua Swift +
Vincent Tabares *
Jerod W. Theis
Brock Townsend
Peter Tran
Gio-Bao Tran
Robyn M. Tyman
Nicholas Vitale
Ben Wagner
Lexi Wahlstrom
Lacey Waterman
Kiley Weir
Kelly Westphal
Mew Wetsawand
Christian Williams ^
Kaitlyn Yoakum
* Graduates with Distinction (Top 10%)
** Graduates with Highest Distinction (Top 3%)
+ August 2022 Degree Candidate
^ PharmD/MBA Graduate(August 2022)
^^ PharmD/MSHI Graduate
2022 Ph.D. Graduates
Angelo Andres, Department of Medicinal Chemistry
Aidyn Marie Medina-Lopez, Department of Pharmacology & Toxicology
Jacob Sorrentino, Department of Medicinal Chemistry
Maria Tickerhoof, Department of Pharmacology & Toxicology
Zhaoxian Wang, Department of Pharmaceutical Chemistry
2022 Master's Degree Graduates
Kathia Antillon, Department of Medicinal Chemistry
Christopher Duphren, Department of Pharmacy Practice
Alexander Kozintsev, Department of Pharmaceutical Chemistry
Emily Mueller, Department of Pharmacy Practice
Erika Sieber, Department of Pharmacy Practice