Brownlee receives Godwin Leadership Award
---
Mike Brownlee, chief pharmacy officer and associate hospital director for ancillary services at the University of Iowa Hospitals and Clinics (UIHC), has been named the recipient of the 2022 Harold N. Godwin Leadership Legacy Award. Brownlee, who completed a master's in Health System Pharmacy Administration from the KU School of Pharmacy, received the honor Dec. 6 at the annual clinical meeting of the American Society of Health-System Pharmacists (ASHP) in Las Vegas.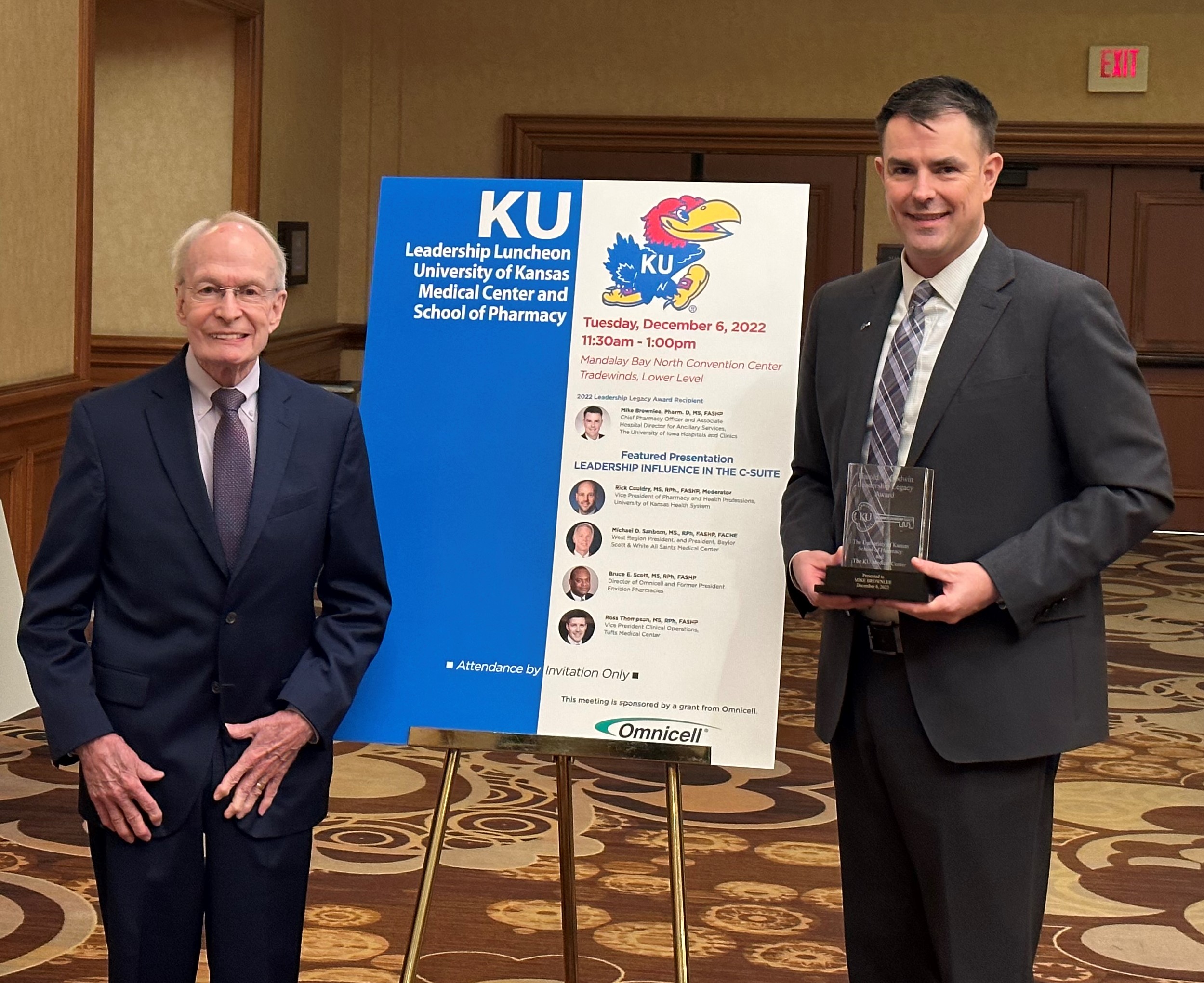 Brownlee also serves as clinical associate professor and associate dean for clinical education for the University of Iowa College of Pharmacy. As a hospital administrator at UIHC, Brownlee is responsible for all pharmacy enterprise, laboratory and radiology operations and serves as an executive leader of several organizational strategic initiatives. In addition to his operational responsibilities, he is an active leader in local, state and national pharmacy organizations. Brownlee has been invited to the KU campuses this spring for a leadership lecture to current residents, pharmacy students and metropolitan health care practitioners.
The Harold N. Godwin Leadership Legacy Award recognizes outstanding leadership and contributions to the profession of pharmacy by alumni and friends of the KU residency training programs. Currently, there are more than 30 residency programs throughout the country under the direction of KUMC residency alumni. The award is presented annually at ASHP and is named in honor of Godwin, a KU Pharmacy professor emeritus who served 34 years as director of pharmacy at the KU Medical Center and 20 years as chair of the Department of Pharmacy Practice. He also served as president of ASHP.