Acosta receives inaugural Distinguished Graduate Award
---
Daniel Acosta, Jr., dean emeritus at Winkle College School of Pharmacy at the University of Cincinnati, is recipient of the inaugural Distinguished Graduate Award from the KU School of Pharmacy. The award recognizes an alumnus of the graduate program for outstanding accomplishments in the profession. Acosta earned his Ph.D. in pharmacology and toxicology in 1974.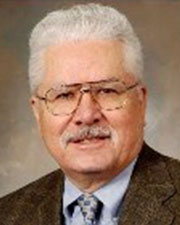 He is the former deputy director of the FDA's National Center for Toxicological Research. Dean Ronald Ragan recognized the El Paso, Texas native at the 37th Graduate Honors Symposium in January where Acosta served as keynote speaker.
"Dr. Acosta exemplifies the success of our graduate program alumni," said Dean Ragan. "As a Hispanic scholar in pharmacy, he was a trailblazer in 1974. He continued to model high achievement in his career and is one of our school's most accomplished graduates. We're proud of him and are pleased to honor him with this award."
Acosta was dean at the Winkle College of Pharmacy from 1996-2011 and served as a faculty member after he stepped down as dean. He was the first Hispanic elected president of the Society of Toxicology, the largest professional toxicology organization in the world.  Prior to his time at Cincinnati, he was on faculty for 22 years at the University of Texas College of Pharmacy where he helped develop a nationally ranked program in toxicology and was founding director of the Graduate Toxicology Training Program.
In 2014, Acosta was appointed deputy director for research at the Federal Drug Administration's National Center for Toxicology Research. In that role he helped manage a research budget of nearly $100 million and helped supervise over 200 scientists. He retired in 2019.
The grandson of Mexican emigrants, Acosta's parents did not complete high school, but his family wholeheartedly supported his pharmacy education. His doctoral work at KU was put on hold for two years when his graduate deferment was canceled, and he served as a pharmacist in the U.S. Army. His research as a Ph.D. student at KU focused on the effects of ischemia/hypoxia on the heart. Across his career he also studied the toxic effects of various drugs and chemicals on hepatic, renal, ocular and neural systems.
In his keynote address, Acosta discussed the career barriers and obstacles he encountered as a professor and administrator. "Perhaps [they] may provide lessons new academic, government and industrial scientists can use for their own careers," he said.
Acosta's keynote address at the Mossberg Graduate Honors Symposium 2022