World-renowned neurologist to speak about relationship between immune cells, alzheimer's
---
LAWRENCE — World-renowned neurologist Dr. David Holtzman will talk about how targeting immune cells may be a potential therapy for Alzheimer's disease at the 16th Takeru Higuchi Memorial Lectures at the University of Kansas School of Pharmacy on Thursday, Nov. 14.
Holtzman is the Andrew B. and Gretchen P. Jones Professor and Chairman of Neurology, professor of developmental biology, associate director of the Alzheimer's Disease Research Center and a member of the Hope Center for Neurological Disorders at Washington University in St. Louis. He studies neurodegeneration, the progressive loss of structure or function of neurons, and neural repair, specifically how they relate to Alzheimer's disease.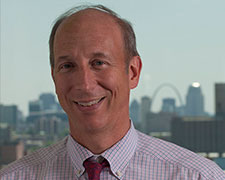 Messy tangles of a protein called tau can be found in the brains of people with Alzheimer's disease and some other neurodegenerative diseases. In Alzheimer's, the tangles coalesce just before tissue damage becomes visible in brain scans and people start to become forgetful and confused.
A new study has found that brain immune cells called microglia, which are activated as tau tangles accumulate, form the crucial link between protein clumping and brain damage. The research, published Oct. 10 in the Journal of Experimental Medicine, shows that eliminating such cells sharply reduces tau-linked brain damage in mice – and suggests that suppressing such cells might prevent or delay the onset of dementia in people.
"Right now many people are trying to develop new therapies for Alzheimer's disease, because the ones we have are simply not effective," said Holtzman, the senior author. "If we could find a drug that specifically deactivates the microglia just at the beginning of the neurodegeneration phase of the disease, it would absolutely be worth evaluating in people."
Holtzman's first lecture, "APOE, TREM2, and Microglia in the Pathogenesis of Tau-Mediated Neurodegeneration," is open to students and faculty and begins at noon. His second lecture, "Alzheimer's Disease: A Clinical and Scientific Update Recent Connections with the Innate Immune System," is open to the public and will begin at 5:30 p.m. Both lectures will be in Room 2020 at the School of Pharmacy, 2010 Becker Drive.
The series namesake, Takeru Higuchi, is a former KU researcher and was known as the Father of Physical Pharmacy. The lecture series is hosted every two years by the KU School of Pharmacy's Department of Pharmaceutical Chemistry.
Photo: Dr. David Holtzman. Credit: University of Washington, St. Louis.
Updated on: 11/11/2019