Wiggans honored with Distinguished Service Award
---
Tom Wiggans says he's probably heard "Over the Rainbow" played in 50 different bars around the world. The song made famous by Judy Garland in the "Wizard of Oz" had Dorothy dreaming of heights beyond the confines of her Kansas existence. Wiggans' thinking was not that much different from the girl in ruby slippers. He loved growing up in Fredonia, Kansas where his grandfather and later his father ran Wiggans Pharmacy for more than 50 years. But he had dared to dream, and those dreams were "somewhere over the rainbow" with the bluebirds, "where the clouds are far behind…above the chimney tops."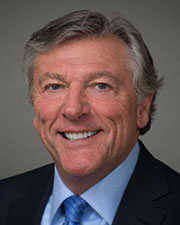 "I didn't know what the horizons were," said Wiggans, "but I knew they were out there." To get there, he followed his family into the world of pharmacy at the University of Kansas. That opportunity, made possible by his dad covering the tuition and Wiggans working summer jobs, gave him the wings to get over the rainbow and launched him on a successful career in the pharmacy industry.
"KU and the KU School of Pharmacy was a great experience," said the 1975 graduate. "It prepared me for the rest of my life, and for that, I couldn't be more grateful."
The scientific training in school prepared him for a variety of roles, but Wiggans says it was former associate dean Hugh Cotton who was the "differentiator." Cotton suggested that the pharmaceutical industry needed pharmacists, too, and that Wiggans should think about it. "The school prepared me," said Wiggans, "but the advice of one guy kind of set me on my career path."
Eli Lilly and Company came courting, but Wiggans wanted to pursue an MBA. While working part-time as a retail pharmacist in Dallas, the MBA got checked off at Southern Methodist University. Wiggans then took Cotton's advice and circled back with Eli Lilly. He started as a sales rep and was also a marketing associate for Lilly. It was the beginning of more than 40 years in the pharmaceutical industry where he led four different companies, including Dermira that he co-founded.
Wiggans spent nearly 10 years at Serono Laboratories near Boston, rising from marketing director to president and general manager of U.S. pharmaceutical operations. One morning the owner called him into a meeting and said that "as of today, you are the new president." Wiggans said, "You could have knocked me over with a feather. Of the millions of things I thought we might talk about, that was not on the list."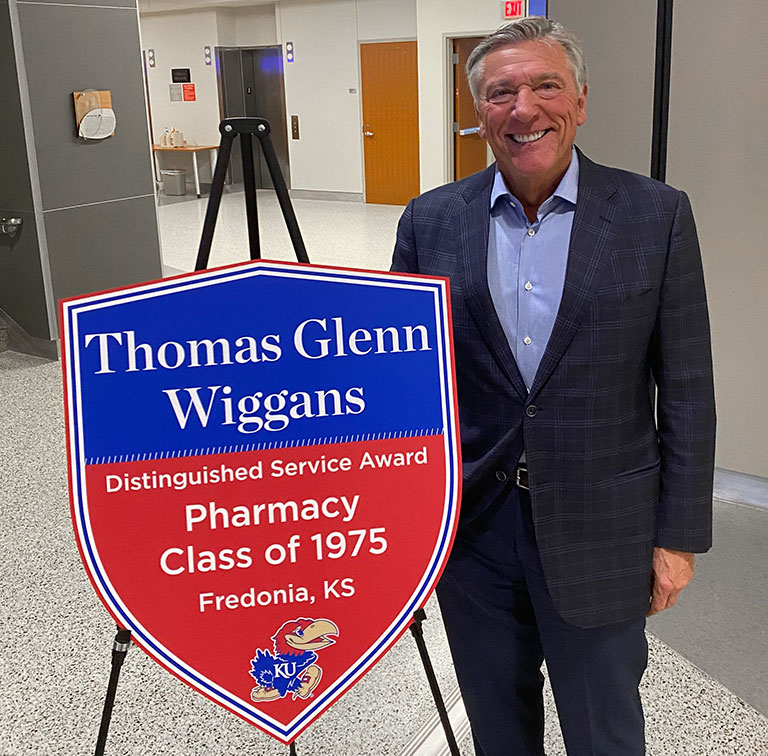 His journey over the rainbow took him over the pond with Ares-Serono Group, where he led their U.K. operations from London. Another company he ran, Peplin, was based in Australia, and he spent time in Asia as well. In between, he was CEO of startup Connetics Corporation that grew to one of the leading dermatology companies in the U.S. employing over 400 people with $200 million in annual sales. It was acquired by Stiefel Laboratories in 2006 to form the largest independent dermatology company in the world.
Founding Dermira in 2010 to develop products for skin disease and dermatology and growing it into a successful biotechnology firm, was perhaps the apex of his flight over the rainbow. His career came full circle when Dermira was acquired by Eli Lilly and Company in 2020 for $1.1 billion.
"It's not like KU liberated me from Fredonia, Kansas, because Fredonia was a great place," he said. "But KU and the School of Pharmacy put me on the road that led to many different places. The School of Pharmacy—that led to this career—afforded me the opportunity to do a lot of things that were pretty cool, and I'm very thankful for that."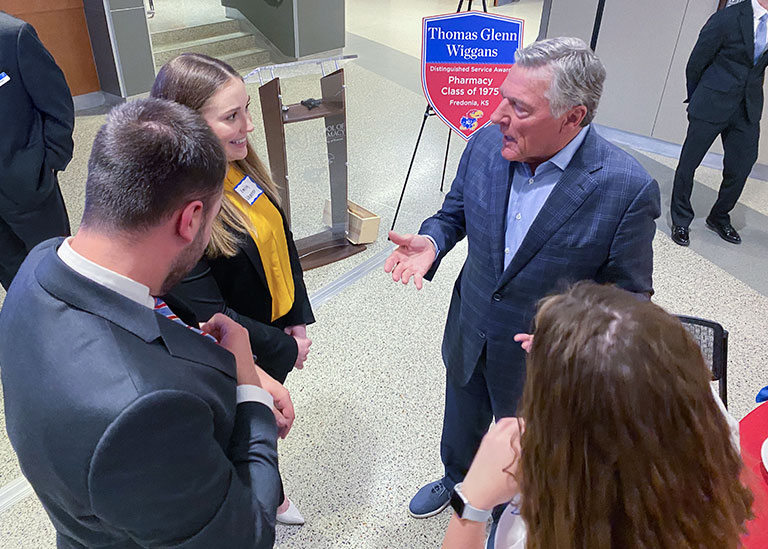 Somehow, Wiggans also found time to help stand up the Biotechnology Innovation Organization, the biotech industry's leading advocacy association, with members in more than 30 countries. Cultivating BIO and leading companies that make a difference for patients and employees are the accomplishments he's found most rewarding.
"A lot of good things that happened in biotechnology and healthcare improvement was a result of (BIO), so I'm proud of that," Wiggans said, "and I'm very proud of my role in developing new medicines. Every once in a while, as CEO, you get a letter or email from a patient who says, 'you changed my life.' Getting a letter like that is extremely rewarding."
Today, Wiggans is still at it. In March, he was named chairman and CEO of Pardes Biosciences. Pardes is developing novel anti-viral compounds for the potential treatment of COVID.
Wiggans found the way to fly with bluebirds, but he hasn't lost his love for his small-town beginnings or the institution that launched his career. "Over the Rainbow" rings true to the kid from Fredonia and he knows other Kansas kids, much like Tom and Dorothy, are out there wishing upon a star. "That's kind of my life. Small town in Kansas, landing in a different place, and being reminded how fortunate I've been."
Wiggans has been a generous contributor to scholarship funds in the School of Pharmacy and serves on the Board of Trustees at KU Endowment. The School of Pharmacy has made Wiggans its most recent recipient of the school's Distinguished Service Award. He received the honor at an event April 29, 2022 in Lawrence. He understands that not every student has parents that can fund a college education, and he wants to help others realize that "dreams that you dream of really do come true."