Timmermann lends her expertise to search for new approaches to pain management
---
LAWRENCE — When the U.S. Secretary of Health and Human Services asked Distinguished Professor Barbara Timmermann to serve on a National Institutes of Health (NIH) advisory council, she was eager to share the expertise in medicinal chemistry she has developed throughout her career. As the University of Kansas School of Pharmacy professor reflects on her first year of service, however, it's clear that she's equally excited about what she's learning from her fellow council members.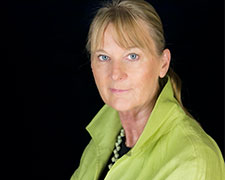 The 18 members of the National Center for Complementary and Integrative Health (NCCIH) National Advisory Council represent a mix of scientists and clinicians who use their research skills to advance the safety and effectiveness of complementary and integrative health approaches, more simply, practices and products that originate outside conventional medicine. Members focus on research topics with scientific promise and potential for rigorous scientific inquiry. They then advise the NIH director on areas that should receive priority funding. NIH grant money is often assigned according to those recommendations.
"It's exciting because you're working with people who are the best of the best in their fields. Everyone brings something different to the table," Timmermann said. "NCCIH deals with a diverse group of health practices including natural products such as dietary supplements, botanicals and probiotics, as well as mind-body approaches such as yoga, meditation, mindfulness-based stress reduction, spinal manipulation and acupuncture."
Scientific research on the safety and efficacy of these practices is limited, and by congressional mandate, the NIH is committed to providing the American public with valuable information while also investigating how specific complementary approaches can be integrated into conventional medical care.
Limited scientific research on the safety and efficacy of these practices has prompted a commitment from the NIH to provide better information to the American public, with a focus on better understanding the role of the brain in perceiving, modifying and managing pain, Timmerman said. Studies include mapping of the brain with the long-term goal of improving chronic and acute pain management through the integration of pharmacological and non-pharmacological means.
"What I'm learning is that we don't understand pain nearly to the extent necessary to alleviate suffering," Timmermann said. "Pain management, both acute and chronic, is a major public health problem and to combat it, we must first understand its roots."
In addition to her own field of medicinal and natural product chemistry, Timmermann is delving further into the comprehension of research that advances our understanding of the mechanisms of mind-body interaction that helps determine their effectiveness for reducing the duration and intensity of pain.
"Studies show, for example, that meditation stimulates the same areas of the brain as opioid drugs. However, it decreases pain independently of opioid neurotransmitter mechanisms. This suggests that better pain control could be achieved through the combination of mindfulness meditation and opioid signaling-induced pharmacologic approaches." Timmermann said. "Doctors are becoming much more open-minded and accepting of this type of integrative health care."
The NCCIH Council, which also includes ex-officio members from the U.S. military and Veterans Administration, is leading a collaboration with the Department of Defense and the Department of Veteran Affairs in an effort to help soldiers and veterans control their pain in a more effective and less addictive and destructive way.
In addition to alternatives to traditional pain relief, NCCIH supports research of natural products. Almost one in five adults in the United States use botanical supplements and other non-vitamin, non-mineral dietary supplements such as probiotics and fish oil or omega-3 fatty acids, Timmermann said. But little is understood about the effects, both good and bad, of these products, particularly when taken along with pharmacological medicines.
About one-third of the way through her three-year appointment, Timmermann said she has already gained a wealth of information that she thinks will also benefit KU and the School of Pharmacy.
"It's been very eye-opening to get this inside look of the NIH grant funding process and establishing national health priorities," Timmermann said. "It will enable me to better mentor the faculty here, teach our pharmacy and graduate students and hopefully, make us more effective in our grant applications."
Updated on: 11/06/2019