Teruna Siahaan to Deliver Distinguished Professor Inaugural Lecture with Focus on Brain Diseases
---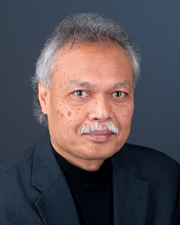 LAWRENCE — Brain diseases are some of the most difficult to treat, but Teruna Siahaan's research discoveries might lead to breakthroughs in treatment. Siahaan, the Aya and Takeru Higuchi Distinguished Professor at the University of Kansas, will deliver his Inaugural Lecture at 4 p.m. Wednesday, Dec. 1. Individuals can register to attend the Zoom webinar here. His presentation is titled "Delivering Molecules to the Brain."
The lecture will be recorded for those unable to attend the virtual event and posted to the Faculty Development website.
Siahaan also serves as a fellow of the American Association of Pharmaceutical Scientists. He is director of the school's Center for Global Health, KU School of Pharmacy, a member of the school's executive committee and a member of the executive board of directors of the Globalization Pharmaceutics Education Network Organization.
A pillar of the Department of Pharmaceutical Chemistry, Siahaan joined the university in 1991 as an assistant professor and was named associate chair in 2006. Before coming to KU, Siahaan worked as a research investigator at Sterling Drug Inc.
Siahaan's research focuses on improving drug delivery to the brain and immune cells. He has published 200 papers, obtained 12 patents and edited two books. His research method has successfully been used to deliver small molecule drugs and neurotrophic protein into the brains of brain disease animal models such as medulloblastoma brain tumor, multiple sclerosis and Alzheimer's disease.
"Brain diseases such as Parkinson's and Alzheimer's diseases are difficult to treat because it is difficult to deliver drugs from the bloodstream into the brain," Siahaan said. "This is due to the blood-brain barrier (BBB) as a barricade between the blood and the brain. We found a method to increase the porosity of the blood-brain barrier to enhance the penetration of drugs from the bloodstream into the brain. We hope that our method can improve brain delivery of drugs for the treatment of brain diseases."
The longtime KU faculty member has received several honors and awards, including Self Faculty Scholar, Pfizer Research Scholar, 2013 Mentor of the Year from the KU Office for Diversity in Science Training and 2014 PhRMA Foundation Award for Excellence in Pharmaceutics. 
Siahaan earned his doctorate in organic chemistry from the University of Arizona and his master's degree in organic chemistry from the University of Indonesia. He also served as a postdoctoral fellow at the University of California Santa Barbara.
The University of Kansas is a major comprehensive research and teaching university. The university's mission is to lift students and society by educating leaders, building healthy communities and making discoveries that change the world. The KU News Service is the central public relations office for the Lawrence campus.