Salina students selected for KU Pharmacy scholarships
---
University of Kansas School of Pharmacy students Quinton Burger and Morgan Dolton, both of Salina, are the inaugural recipients of the Gary L. Grunewald School of Pharmacy Scholarships. The Grunewald Scholarship is a one-year, full-tuition scholarship endowed by the late professor of medicinal chemistry at the School of Pharmacy. A faculty member for 50 years at KU, Grunewald established the scholarship with a $1.6 million gift. He died in February.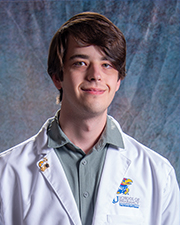 Burger, the son of the late John Burger and Nancy Burger of Salina, is in his third year of pharmacy school. He's scheduled for graduation in May of 2025. Burger plans to complete a pharmacy residency and then practice in a hospital setting where he looks forward to "collaborating with other providers to ensure patients receive the highest level of care.
"It feels like a great weight has been lifted off my shoulders," said Burger. "I am so grateful for Dr. Grunewald's philanthropy, as this scholarship allows me to fully focus on my academics, executive positions in numerous student organizations, and being a caretaker for my mother, after the passing of my father."
Dolton, the daughter of Kevin and Angie Dolton of Salina, is on track to complete her Doctor of Pharmacy degree in 2026. She plans to be an ambulatory care pharmacist or practice at an independent pharmacy because she "values the connections and relationships that can be formed with patients.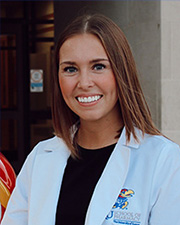 "I feel honored to have been one of the recipients of the Grunewald Scholarship," said Dolton. "I hope to continue exemplifying Dr. Grunewald's generosity and legacy as a future pharmacist by giving back to my community and serving as an advocate for my patients."
For more information on the Gary L. Grunewald School of Pharmacy Scholarship, visit https://rockcha.lk/GGS.