Pharmacy student earns national research award
---
Yezan Salamoun, a Doctor of Pharmacy student in the University of Kansas School of Pharmacy, has received an Underrepresented Minority Gateway Research Award from the American Foundation for Pharmaceutical Education. AFPE awards the scholarship to Pharm.D. and undergraduate students who are considering a career in research. The award enables them to work with a faculty mentor on a research project. The honor goes to students who will contribute to research that will positively impact public health and patient outcomes. Salamoun is one of 10 students to receive the award this year.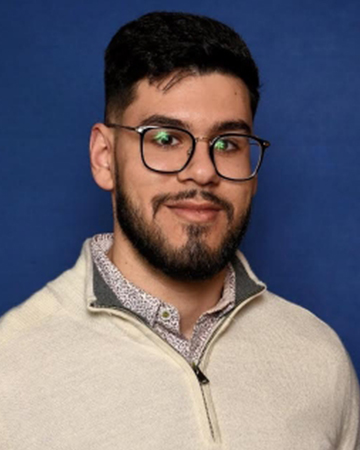 "Yezan has been a highly self-motivated and productive member of the Funk laboratory and has prepared himself to successfully transition into a graduate program in the pharmaceutical sciences," said Ryan Funk, associate professor and associate chair of the Department of Pharmacy Practice. "The AFPE Gateway to Research Award will further support Yezan and his development as he continues his training towards becoming a pharmaceutical scientist."
Salamoun, a graduate of Blue Valley West High School in his hometown of Overland Park, Kansas, appears poised to pursue a Ph.D. He says that's what he's thinking right now but knows he will have other options after he completes his fourth and final year of pharmacy school next spring.
"When I met Dr. Funk and started to enjoy the process of research, he really pushed me to do more than just get published once, to look good on my resume," said Salamoun. "Now I envision myself doing a Ph.D. in pharmaceutical chemistry after pharmacy school. I'm not fully certain, but that's what this fourth year of pharmacy school is about—finding things that we enjoy. We'll see what I enjoy the most."
He has a great jump on a research career, exploring ways to identify biomarkers that would indicate how a rheumatoid arthritis (RA) patient might respond to a specific drug treatment. In the Funk Lab, Salamoun is helping to research how mice react to similar conditions to the autoimmune disease in humans.
"Rheumatoid arthritis is a super painful and tragic disease state," said Salamoun. "It's an inflammatory condition where your immune system is recognizing your joints as foreign tissue, so it starts attacking those joints causing swelling and joint pain."
Methotrexate is a common drug therapy used to treat RA. Originally a drug to treat cancer, it can have serious side effects. Salamoun says a third of RA patients treated with methotrexate respond well, a third have toxic side effects and a third will not benefit at all.
"It would behoove us to know who is going to respond well to that drug in advance," he says. "Doctors are kind of just guessing, and it can take four to six months to know how a patient responds. Meanwhile, the disease is progressing, and that can cause permanent joint damage. Our research aims to find a test or biomarker that would identify which patients would respond well to methotrexate and which patients would not."
Currently doing a clinical rotation at a compounding pharmacy in Lawrence, Salamoun is enjoying this phase of his KU education.
"It's one thing to learn something in a classroom, it's another thing to apply it in the real world," says Salamoun. "There's only so much you can learn in school, and it helps to have those [classroom] skills to find the answers, but it's OK if you don't have the right answer."
Through his fourth-year rotations, Salamoun hopes to discover more right answers and then take his experience to the research bench. It looks like a career of scientific discovery is ahead, and his AFPE research award is helping make that goal closer to a reality.