Pharmacy alum pledges $100,00 to Gene Hotchkiss Pharmacy Scholarship Fund
---
LAWRENCE — A University of Kansas School of Pharmacy alumnus has pledged $100,000 to honor a longtime school administrator.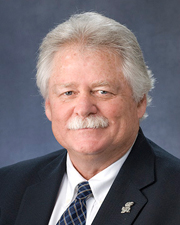 The anonymous donor will match donations up to $100,000 in honor of Gene Hotchkiss, senior associate dean, who retired this month after 34 years of service to the pharmacy school and profession.
School of Pharmacy Dean Ronald Ragan said the generous donation is testament to the relationships Hotchkiss has built with students over the years and the role he has played in their lives as students and as pharmacy professionals.
As a pre-pharmacy adviser, Hotchkiss counseled hundreds of students, helping them decide if a career in pharmacy was right for them. He created the school's first pharmacy summer camp in 1997 and continued to organize that program for the next 20 years. He also created the school's High School Open House program, the White Coat and Convocation ceremonies, Career Day and the P4 Senior Retreat.
A 1969 graduate of the KU pharmacy school, Hotchkiss said his primary interest has always been community pharmacy. As longtime faculty adviser to the school's National Community Pharmacists Association (NCPA) student chapter, he has fostered connections between students and alumni that have shaped community pharmacy throughout the state of Kansas.
His annual NCPA "Road Trip" across the state has become a tradition that students and alumni look forward to every year. Over the past 23 years, he has led KU pharmacy students on more than 300 community pharmacy visits. The trips provided students valuable insight into the operation of a community pharmacy and introduced them to alumni who would become their mentors, peers and business partners.
Ragan accompanied Hotchkiss on the trip last year and saw firsthand how much the students and the pharmacy owners they visited gained from the experience.
"The students had this unique opportunity because Gene puts so much work into planning these trips. He did the scheduling for up to 12 stops a day, made hotel and meal reservations, and supervised the students in all different environments. He even drove the van," Ragan said. "We all appreciate Gene, but I'm not sure many people realize just how important he has been to the school, our students and our alumni over the past 34 years."
Ken Audus, professor and former dean, worked closely with Hotchkiss for 15 years and described him as a tireless advocate for the students.
"There are many graduates who still do not fully realize how much he did behind the scenes for them as students to ensure they were successful in completing their degrees at KU," Audus said.
Matching contributions to the Gene Hotchkiss Pharmacy Scholarship fund will be made through LaunchKU, a crowdfunding initiative by KU Endowment that aims to help students, faculty and staff at KU raise funds for projects and passions that benefit the KU community. Visit launchku.org/hotchkiss to learn more.
KU Endowment is the independent, nonprofit organization serving as the official fundraising and fund-management organization for KU. Founded in 1891, KU Endowment was the first foundation of its kind at a U.S. public university.
Updated on: 10/16/2020