Susan King
---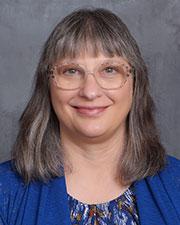 Clinical Assistant Professor
Biography
—
Susan King received her BS Pharmacy degree from the University of Kansas in 1991 and her PharmD degree from the University of Colorado in 2017. In between, she attended graduate school at the Florida Institute of Technology studying new drug discovery.
She has worked in retail and hospital pharmacies both as a clinical/staff pharmacist and in management as a store Manager, as well as Assistant Director and Director of hospital pharmacies. In addition, she was a licensed Consultant Pharmacist for several years in Florida and consulted for GAMBRO dialysis centers. In 2021 She joined CVS briefly to help with COVID vaccinations in local nursing homes. In addition to her teaching responsibilities,  she practices as a pharmacist at Harry Hynes Memorial Hospice in Wichita, KS, utilizing collaborative practice agreements to manage end-of-life medication therapy for patients and periodically volunteers at JayDoc ambulatory clinics.
Specializations:
Areas of interest/specialization have included: palliative and end-of-life care, pharmacogenomics, geriatrics, diabetes, nutrition (various diets and TPN), infectious disease, compounding, and natural products.
Education
—
Pharm.D. in Pharmacy, University of Colorado, 2017, Aurora, CO
B.S. in Pharmacy, University of Kansas, 1991, Lawrence, KS