James W. Tracy
---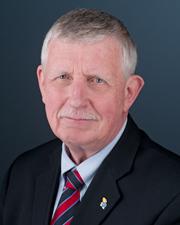 Department of Pharmacology & Toxicology
Contact Info
Malott Hall, Room 5090A
1251 Wescoe Hall Drive
Lawrence, KS 66045
---
Biography
—
James W. Tracy's research has focused on the metabolism of xenobiotics in invertebrates and the biochemical mechanisms of anthelmintic action and resistance.
Education
—
Ph.D. in Biochemistry, Purdue University, 1976, West Lafayette, IN
B.S. in Chemistry, Bowling Green State University, 1972, Bowling Green, OH
Research
—
The biochemistry of the human trematode parasite Schistosoma mansoni and the chemotherapy of schistosomiasis, the disease it causes, has been the primary research focus of my research for the past twenty-five years. Early on I studied the role of parasite egg antigens in the pathogenesis of schistosomiasis and the mechanism of action of the antischistosomal drug niridazole. After arriving at the University of Wisconsin, my laboratory turned its attention to studying the enzymes of drug metabolism in schistosomes. We investigated schistosome glutathion S-transferases and demonstrated that conjugation with glutathione is a pathway of xenobiotic conjugation in these organisms. Work from our laboratory and others established the importance of glutathione and glutathione S-transferases as cellular defense mechanisms in parasites.
More recently we discovered quite by chance the schistosome homologue of a yeast protein, Mak16p, that plays an essential, but undefined role in regulating biogenesis of 60S ribosomal subunits. Mak16 has since been found in every eukaryotic species examined. Its protein sequence contains both nuclear localization sequences and nucleolar retention signals, consistent with a role in ribosome biogenesis, and a highly conserved cluster of cysteine residues that is essential for function. Because schistosomes are not amenable to genetic manipulation, our most recent work used the yeast Saccharomyces cerevisiae as a model organism.
Because my administrative duties occupied an inordinate amount of time, I concluded it was no longer possible to provide adequate mentoring to graduate students and postdocs. I suspended active research at the end of 2004.