Online master's in Pharmacology and Toxicology the right fit for Foster
---
Working professionals don't often have the flexibility to pursue a traditional on-campus graduate degree. Lack of local access and conflicting hours are two huge hurdles. For JD Foster, a veterinarian based in Washington, D.C., the online Master of Science in Pharmacology and Toxicology from the University of Kansas School of Pharmacy saved the day.
"As a veterinarian who still worked my full-time job, having a long-distance option for a master's degree was amazing," said Foster, KU's first graduate of the online lab-based program in the Department of Pharmacology and Toxicology. "It was really a fantastic fit for what I needed. A high-level program, but one that could be done at my pace and still achieve it in the same timeframe that other people get their master's degree [on campus]."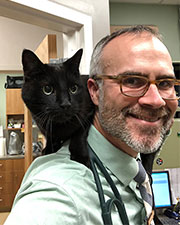 Foster would listen to recorded lectures from his School of Pharmacy faculty on evenings and weekends. He found them engaging, and the convenience of learning on his time made all the difference. He is an internal medicine specialist in a busy animal hospital and wanted to learn more about drug interaction in nephrology and urology.
"We have human dialysis machines that we use for dogs and cats, and we do some pretty advanced kidney medicine," Foster said. "I want to study and know more about how to better dose medications to our patients who have kidney disease. The master's was right up my alley, because I wanted to do research and being able to do research as part of this was just a really good fit for me."
Nancy Muma is department chair and professor in Pharmacology and Toxicology and served as Foster's online research mentor. She had seen the success of an online graduate program in the Department of Pharmaceutical Chemistry and wanted to fill the demand for a similar program in her department. Foster's successful completion of the degree was just the type of experience she had hoped for students looking to advance their medical, biotech or pharma careers.
"It was terrific," said Muma. "JD was a really engaged student interested in learning more about pharmacology and research. The online classes went very smoothly, and we had a really good interaction between his onsite research mentor, me and JD."
With so many people successfully experiencing work from a distance during the pandemic, Muma says it's an ideal time for students to continue their studies in online programs. "It's a very small adaptation to take online courses and to be able to work with mentors at a distance. The program is really tailored to the individual, providing one-on-one interaction with faculty members in the department. The online tools we're all using now make this very easy."
Muma provided specific expertise in grant writing to help Foster learn how to write a grant proposal. Foster used that knowledge to apply for an American Veterinary Pharmacology Research Foundation grant that ended up paying for his thesis research. "I think it really lays the groundwork for a successful research career for him," she said.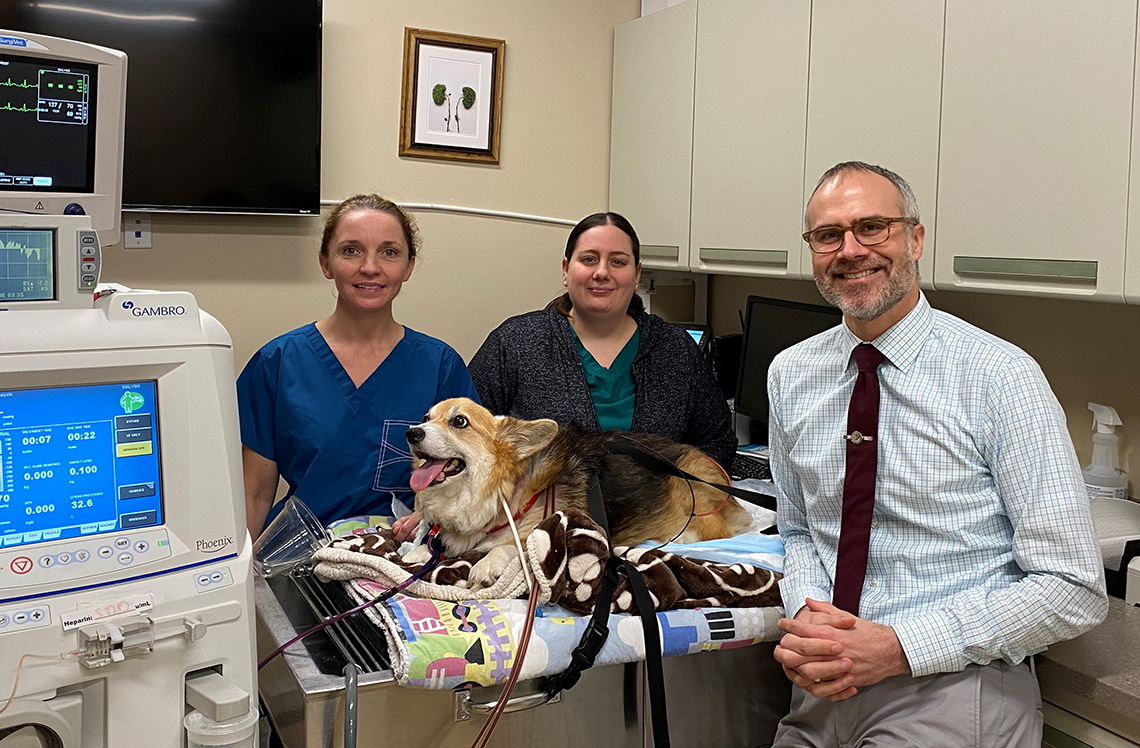 Foster used a private research diagnostic laboratory to assist in his research, and said Muma was there to "help guide and make sure that the project was making sense. She would reach out to other KU faculty members for questions that she couldn't answer, so my support network was even larger than just her. It ended up being something that was quite achievable. We did a pretty high-level pharmacokinetic study that rivals things that are done in [campus-based] academic research institutions."
Foster, past-president of the American Society of Veterinary Nephrology and Urology, hopes his research experience and master's degree from the KU School of Pharmacy will help serve as a springboard to becoming a board-certified specialist in clinical pharmacology—a very small group of veterinary specialists nationwide. He also sees how his online master's experience translates to his clinical work.
"In everyday practice, I feel way more comfortable being a resource to all the veterinarians here at the hospital, helping them with specific questions on how often we should give a drug. Is this something that is going to have interactions we need to worry about? I feel much more capable and proficient to be able to answer and help them."
Foster says the degree is what employers care about, but he's far more satisfied with the learning he received from the experience. "Gaining that comfort and the skills and training through the program is what you want to take with you. It was perfect for me and allowed me to get the training that I wanted, to have the support to complete the research project that I wanted to do, in a way that was more thorough, more informative than I would have designed it without doing this master's program. I'm excited to see where all the information and everything I've gained is going to take me next."
More information about online Master of Science degrees in the Department of Pharmacology and Toxicology.