High Point University Dean selected to lead KU School of Pharmacy
---
LAWRENCE — The founding dean for the High Point University School of Pharmacy will be the next dean of pharmacy at the University of Kansas.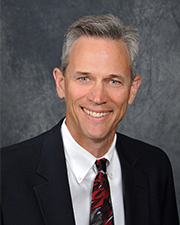 Ronald Ragan, a KU alumnus and past KU School of Pharmacy faculty member, will begin his tenure Aug. 1.
"We were fortunate to have great candidates who clearly understood the opportunities and challenges," said Carl Lejuez, interim provost & executive vice chancellor. "Ron has an exceptional track record of success in his endeavors and programs, both at KU and at High Point. I appreciate his insight into the changing environments for pharmacy practice and pharmaceutical research, and I believe he will be an outstanding leader of the School of Pharmacy."
Ragan will succeed Kenneth Audus, who in November 2018 announced his decision to step away from the leadership role after 15 years. The School of Pharmacy offers the only pharmacy program in Kansas and has a presence on three KU campuses: Lawrence, Kansas City and Wichita. The school received more than $15 million in research funding in fiscal year 2018 and ranks seventh in the nation by the American Association of Colleges of Pharmacy. Approximately 150 students are accepted annually into the Pharm.D. professional degree program after completing two years of pre-pharmacy coursework. The program is fully accredited by the Accreditation Council for Pharmacy Education, and students in the class of 2018 achieved a first-time pass rate of 100% on the North American Pharmacists Licensure Exam.
"KU is recognized nationally and internationally for its clinical and graduate programs in pharmacy," Ragan said. "This recognition is directly related to the exceptional faculty, staff and students we attract. I am proud to be a graduate of both the clinical program and the graduate program at KU and am honored to be returning to my alma mater as the eighth dean in the 134-year history of the school. There are great opportunities ahead, and this is the ideal time to return to Kansas and build on the success the school has enjoyed over the years."
Ragan has been at High Point University, in High Point, North Carolina, since 2012. As founding dean of the Fred Wilson School of Pharmacy, Ragan has overseen development of a program that now enrolls 189 students. He also helped design the $120 million facility that opened in 2017. Prior to joining High Point, where he is also a professor, Ragan held several positions at KU. From 2004 to 2012, he was associate dean for academic affairs, managing a variety of curricular affairs for the school. During this time he also served on leadership teams that led construction of the Pharmacy Building and established the satellite teaching facility in Wichita. Between 1998 and 2011, Ragan directed KU's nontraditional Pharm.D. program, a 44-credit-hour program that bridged professionals through the degree upgrade process. He initially joined the KU faculty as an adjunct instructor of pharmacy practice for the 1997-1998 academic year.
From 2000 to 2013 Ragan was president of Midwest Pharmaceutical Consulting Inc. His professional experience also includes direct patient care positions at independent and medical center pharmacies. While at KU as a student he worked at the Student Health Pharmacy in Watkins Health Center. His graduate student tenure also included positions as a graduate teaching assistant and as a researcher in pharmacology and toxicology. Ragan has published in various journals on topics related to neuronal cell death, drug therapy and pharmacy education research.
He is a member of the North Carolina Association of Pharmacists and served on its board of directors from 2013 to 2017. He is also a member of the American Pharmacists Association, the American Association of Colleges of Pharmacy, the Society of Neuroscience, the American Association for the Advancement of Science and more. His service commitments include work on several committees and organizations at the school, university, community and regional levels. He received a KU Center for Teaching Excellence award in 2009, and he also received the 2003 PRISM Award from the Greater Kansas City Public Relations Society of America. In 1989, he was selected as the Kansas Pharmacist Association Distinguished Young Pharmacist of the Year.
Ragan has a doctor of philosophy and a master's degree in pharmacology and toxicology from KU. He also earned a bachelor's degree in pharmacy from KU, and he has an associate's degree from Butler County Community College. He is a licensed pharmacist in Kansas and North Carolina.
Lejuez expressed appreciation for those involved in the successful search effort.
"The dean of pharmacy search committee — led by Michael Branicky, professor of electrical engineering and computer science and past dean of the School of Engineering — worked diligently to identify great candidates and involve faculty, students and staff from all our campuses," Lejuez said. "Our administrative support staff worked without the assistance of a search firm, and they and the others in the search committee did a remarkable job. I am grateful for their service."
Updated on: 06/11/2019