Heidrick travels the state to deliver COVID vaccine
---
LAWRENCE — Just weeks after COVID-19 shut down the university and much of the country, Dean Ronald Ragan began planning for the day a vaccine would arrive. He knew that pharmacists across the state and the country would play a vital role in solving the COVID problem and that KU pharmacy students had much to offer and many opportunities to learn.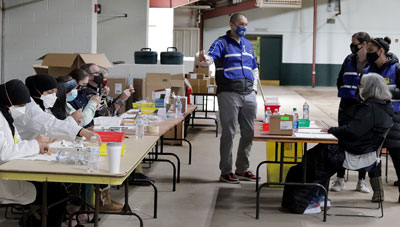 He asked Associate Dean Joe Heidrick, who runs the school's experiential education program, to be ready to take the lead when the vaccine arrived. He had no idea at the time just how seriously Hedrick would take that responsibility.
When local healthcare workers arrived to receive the first round of Douglas County COVID vaccines two days before Christmas, Heidrick was there to welcome them. He stood at the front door, greeted people and ensured they maintained proper distancing. He described his role at that first clinic as a simple but necessary one, and it set the tone for what would become a life-changing three months.
"It mattered very little to me what my role would be that day or any of the days that followed," Heidrick said. "My only goal was to do whatever I could to help vaccinate as many people as possible as soon as possible."
Just weeks before that first clinic, Heidrick's sister, Heather, was hospitalized with bilateral COVID pneumonia. She contracted the virus while operating the family pharmacy in Beloit.
"I thought she was going to die," Heidrick said. "She's the cornerstone of our family and many would say the cornerstone of the Beloit community. While she was in the hospital, I would sit on my back porch at night and cry, thinking about life without her. I also thought about what I was going to do next to help our country get through this nightmare."
His role expanded quickly. To date, Heidrick has help organize more than 50 COVID vaccination clinics, sometimes three a day in five different cities across Kansas. Under his supervision, pharmacy students, faculty and alumni prepared approximately 90,000 vaccine doses. For non-pharmacy roles, Heidrick recruited hundreds of volunteers, and he cast his net wide.
"I hit up friends, neighbors, friends of neighbors and neighbors of friends to volunteer at these clinics," Heidrick said. "I didn't turn anyone down. If you wanted to help, we found a job for you."
After two weeks in the hospital and a couple more at home, Heather recovered.  The two of them teamed up to use extra vaccine doses from western Kansas to provide access to areas in greater need. Administering COVID vaccines became a family initiative of hauling supplies and vaccine back and forth from Beloit, up and down I-70. His kitchen table was covered with band aid boxes, cotton balls, consent forms and syringes. His garage was full of sharps containers and his vehicle was packed to the ceiling with everything needed to show up and vaccinate 500 people at a time.
His wife, Lindsey, filled out thousands of consent forms at clinics, and his eight-year-old daughter, Miles, managed the 15 -minute timers for people to wait after they had been vaccinated.
Already concerned about the social isolation Miles was experiencing due to the virus, Heidrick worried that the constant chaos and travel would be too much for her. Feeling a bit worn out himself, he considered pulling back on the travel and the extra clinics. Then, when he woke her up early one morning in a hotel in Western Kansas, she popped out of bed and said, "We get to go help more people today!"
Heidrick said that was the boost he needed to keep going.
"I'm not sure how much of this she will remember when she grows up, but Lindsey and I decided that, if nothing else, when asks us what we did to help during the pandemic, we'll have a good answer."
Last month, the College of Liberal Arts and Science awarded Heidrick the Steeples Service to Kansans Award in recognition of his work delivering the COVID vaccine.