Former students and colleagues honor longtime KU Pharmacy professor
---
Never underestimate the influence of a mentor.
In a school that is known for faculty who take personal interest in students and junior faculty, Bob Hanzlik is the epitome of the faculty and professional mentor. Former student John Cashman, who has established himself as a productive pharmaceutical researcher and a savvy entrepreneur, considers himself fortunate to have been one of the many under Hanzlik's guiding hand.
"Bob had a great impact not only on my graduate career but my life and those of many of my colleagues," Cashman said. "He has always added great value to any interaction, whether it's a graduate student or another professor. I learned from Bob that the more you give, the more you receive."
Cashman's affinity for his mentor, colleague and friend led him to engage classmates, colleagues and companies to honor Hanzlik by donating to the Bob and Lois Hanzlik Fund for Medicinal Chemistry. The fund helps graduate students with stipends, tuition, fees, travel expenses, research expenses and "other purposes that support the collegiality and well-being of graduate students in the department." To date, 17 separate contributions have been made as a way to say thanks to someone who invested so joyfully in others.
Hanzlik's "huge net" of support to others included not only academic relationships but industry and association colleagues. A former president of the International Society for the Study of Xenobiotics, Hanzlik leveraged his prominence in the field to open doors for students and faculty and connect them with others in pharmaceutical professions.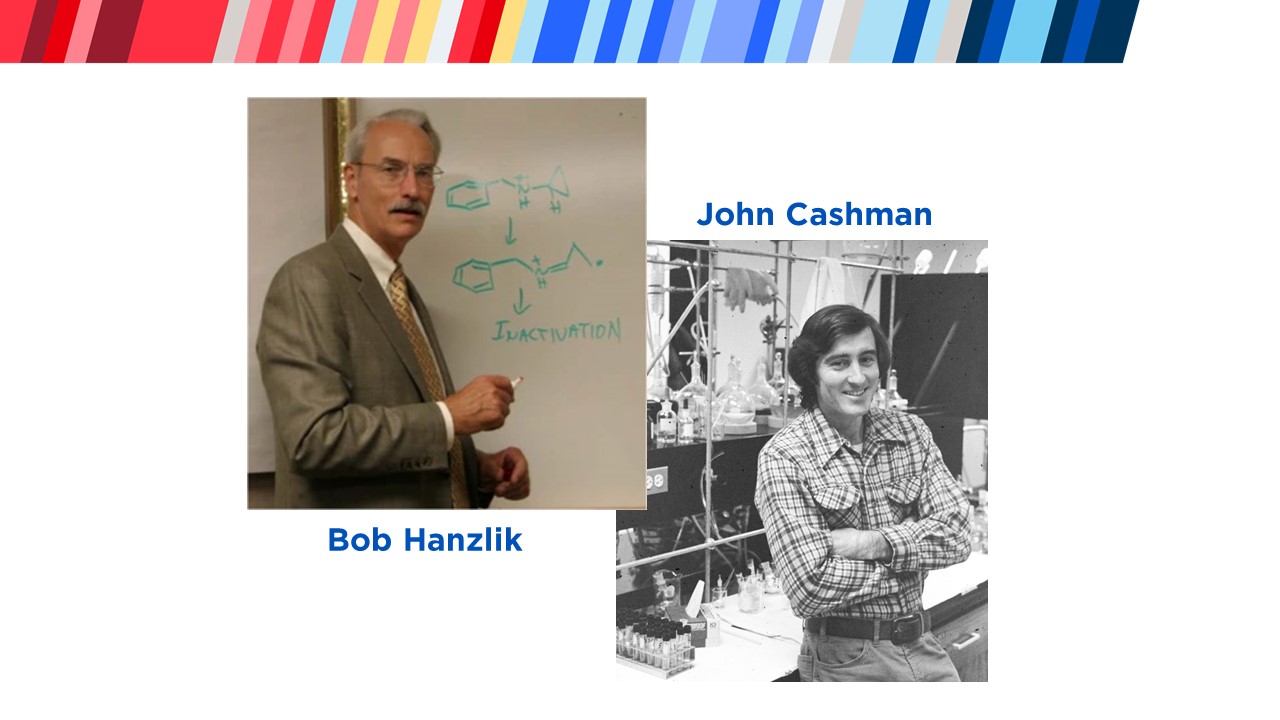 "He's very passionate," Cashman says. "Whether it's science, hang gliding or people, he's very passionate and carries himself with a lot of joy. If you have a great cause, then it's just a no brainer to find people to support that. Bob has wonderful wisdom, great passion and great authenticity. I have tried to continue that in my career, and I'm just very proud to be part of his legacy."
Hanzlik retired in 2020 as chair of the Department of Medicinal Chemistry. Over his 49 years of service to KU, he established four Core laboratories (Mass Spectrometry, Protein Production, Protein X-ray Crystallography, and High-field Bio-NMR) that continue to impact students and research and provide another legacy for his distinguished career.
Cashman, a California native and 1982 master's and Ph.D. graduate of KU Pharmacy's Department of Medicinal Chemistry, founded the Human BioMolecular Research Institute in 1997. His research includes developing new medications from stem cell-related research. He has been a biomedical researcher in the private sector and taught chemistry and pharmaceutical chemistry at the University of California, San Francisco and University of California, San Diego. Following his KU graduation, he held a postdoctoral fellowship in chemistry at Harvard University where he worked with Nobel Prize winner E.J. Corey.
The accolades of Bob Hanzlik's proteges would choke the Internet. Much like the impact of interest over time in a financial investment, Hanzlik's investment in people has had exponential results in research, academics and giving. The growth of Hanzlik's endowment fund is a testament to his mentorship. As Cashman put it, "He taught me a great deal about how to give to others." Never underestimate the influence of a mentor.
If you would like to contribute to the Bob and Lois Hanzlik Fund for Medicinal Chemistry, or want to discuss another gift to the School of Pharmacy, please contact Beth Bucklin, development director, KU School of Pharmacy at bbucklin@kuendowment.org or 785-832-7477.