Burtnett scholarship brews opportunity
---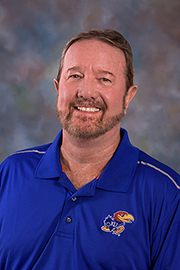 Spending an entire career at one employer is as rare today as a 25-cent cup of coffee. But Jerry Burtnett found a spot he loved and saw no reason to leave. The 1969 graduate of the KU School of Pharmacy interned at St. Francis Hospital in Wichita then accepted an offer to join the team as a staff pharmacist. It took 42 years for him to leave.
"The people are why I stayed," said Burtnett. "Really, really a great bunch of people at that hospital. The people were what kept me there."
Another spot he loved was the University of Kansas. His years in pharmacy school were some of the best, he says. Friendships gained. Skills developed. A career launched. His appreciation for what KU gave him is why Burtnett has provided a $25,000 gift to establish the Jerry Burtnett Pharmacy Scholarship fund at KU Endowment.
"I had a great experience at KU," said Burtnett, an Iola, Kansas native. "I got a great education. The professors in the School of Pharmacy were there to make sure you were successful. I really appreciated that. Every semester I thought, it couldn't get any harder. The [coursework] kept getting harder and harder, and I got better and better grades because they helped me learn to study. You could talk to a professor, and they'd give you directions on what you needed to study. They were very helpful."
Burtnett knows, like that 25-cent cup of coffee, that a pharmacy degree costs a lot more than it used to. In-state tuition for a four-year Doctor of Pharmacy degree at KU is about $100,000. Providing scholarship assistance to KU Pharmacy students is helping secure their future, and at the same time, supporting the healthcare profession in Kansas where the need for professionals continues to grow.
"It is getting more and more expensive to go to college," Burtnett acknowledges. "With the School of Pharmacy, there are all of those externships and other programs that have additional costs. I think [scholarships] are an excellent investment in the future. Any young person that wants a good education can find it at KU, and the School of Pharmacy especially, would give you an excellent job when you graduate."
Pharmacists remain in demand—and whether it's in a hospital setting like Burtnett enjoyed, community or corporate retail, the pharmaceutical industry or research—pharmacy graduates have options and can choose the one that fits them best. For example, Burtnett found a specialized interest in sterile products such as injectables, IV fluids and chemotherapy drugs.
At the St. Francis Hospital pharmacy, "I got to be in charge of all the sterile products, both the education and preparation of materials, especially chemotherapy," he said. "I oversaw the technicians and their preparation of solutions."
Burtnett and his wife Lucy met in Wichita and now live full-time in Florida. They were active for many years in KU Alumni Association activities and are lifetime members. The pair were honored with the Alumni Association's Mildred Clodfelter Award in 2017 for "sustained volunteer service to the university at the local level." Twice, they chaired an annual fund-raising event, even dressing up as "chairs" at a Halloween-themed "round-up."
"We encouraged everyone to dress up, and Lucy came up with the idea of cutting out the bottoms of two lawn chairs so we could dress as 'the chairs.' We got to know a lot of people in Wichita, and we miss those events and our friends."
Burtnett is pleased that he has stayed in touch with many of his fellow Class of 1969 pharmacy students that he counts as close friends. Those relationships are part of what made KU so special for him and why he wants to help others experience a KU Pharmacy education. If he were to sit down and talk to an alum or anyone who wants to make a difference, Burtnett would tell them to consider a gift to the KU School of Pharmacy. He'd probably even spring for a cup of coffee.
For more information about making a difference, contact Beth Bucklin at KU Endowment, bbucklin@kuendowment.org or 785-832-7477.