Natalie Gadbois
---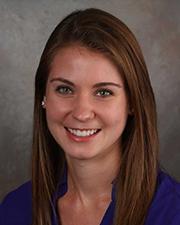 Clinical Assistant Professor
Department of Pharmacy Practice
Contact Info
School of Pharmacy - Wichita, Suite 2331-B
1010 N. Kansas
Wichita, KS 67214
---
Biography
—
Dr. Gadbois is an ambulatory care pharmacist at Ascension Via Christi St. Joseph Clinic in Wichita, KS. The practice site is associated with the KU Via Christi Family Medicine Residency Program, which provides a dynamic environment for interdisciplinary teamwork.  Her clinical areas of interest include asthma, COPD, and smoking cessation, along with general chronic disease state and medication management.  After completing post-graduate training in both in-patient and out-patient settings she discovered her passion for transitions-of-care, and the importance of capturing patients at these pivotal moments.  Dr. Gadbois believes in a holistic approach to providing care, including addressing social and economic considerations that may impact a patient's health.  In her practice she enjoys utilizing motivational interviewing strategies and patient-centered communication to empower patients to meet their individual health needs and goals.  Both in and out of the classroom, Dr. Gadbois strives to integrate concepts and create significant learning experiences for students and trainees.  Her goal is to develop lifelong learners who have the requisite skills and attitudes to continually pursue their passion as they enter the pharmacy profession. 
Education
—
Academic and Ambulatory Care Fellowship, Purdue University, West Lafayette, IN
Pharmacy Practice Residency, Iowa Methodist Medical Center, Des Moines, IA
Pharm.D., Drake University, Des Moines, IA
M.S. in Public Administration, Drake University, Des Moines, IA
Research
—
Research Interests
Development of empathy in health professional students
Optimization of patient outcomes at transitions-of-care
Engagement of women in the pharmacy workplace
Teaching
—
Courses Taught
Pharmacotherapy I – instructor
Pharmacotherapy IV – instructor
Rotations
Preceptor for APPE Ambulatory Care Rotation
Selected Publications
—
Fenn NE, Gadbois NR, Seamon GJ, Castek SL, Plake KS. Development of a unique student pharmacist internship in a primary care provider system. Pharmacy. April 2019; 7, 36.
Selected Presentations
—
Gadbois NR, Fenn NE, McGowan B, Plake KS. Impact of simulations on health professional students' empathy: A systematic review. Midwest Social and Administrative Pharmacy Conference. August 2018.